We work to solve pressing health needs in Guatemala's most impoverished communities. Led by indigenous health care workers, we bring together medicine, culture, and language to overcome barriers to health and wellbeing. Where others say "no," we say "yes." 
We believe that your health should not depend on where you were born or the language you speak. 


We were born on January 1, 2007 – the day "Wuqu' Kawoq" on the traditional Mayan calendar, which represents medicine and healthcare providers. We chose this as our name to reflect our mission of bringing quality care to rural, Mayan communities.
We also go by Maya Health Alliance so it's easier for more people to know what we're about!
Guatemala's income distribution is among the most unequal in the world.
A woman in Guatemala is ten times more likely than a woman in the United States to die during childbirth.
As many as 80% of children in rural communities in Guatemala suffer chronic malnutrition.
The rate of type 2 diabetes and pre-diabetes among Maya people is 25% — more than double the national rate.
These problems, which disproportionately affect Guatemala's indigenous Maya people, are not new. The arrival of the Spanish 500 years ago marked the start of a difficult history for the Maya. They lost their lands and their freedom. In the 1980s, hundreds of thousands of lost their lives in Guatemala's 36-year civil war. Throughout, they have endured.
Today, there are millions of Maya people living in Guatemala. More than half of all Guatemalans speak a Mayan Language. But the health care system in Guatemala does not serve them. Many would prefer to die at home than to be treated in a hospital where no one speaks their language or respects their dignity. We work in Guatemala because the Maya people and Mayan culture are still alive. We want to keep it that way. 
Since 2007, we have been advancing lasting changes in health care delivery across rural Guatemala so that high-quality care, health, and well-being are within reach for everyone. Led by indigenous Maya, we provide high quality health care to more than 10,000 patients in 35,000 visits a year. Community Health Workers provide care in the communities where our patients live and in their primary languages.

Our program areas include child health, chronic disease, maternal health, primary care, and women's health.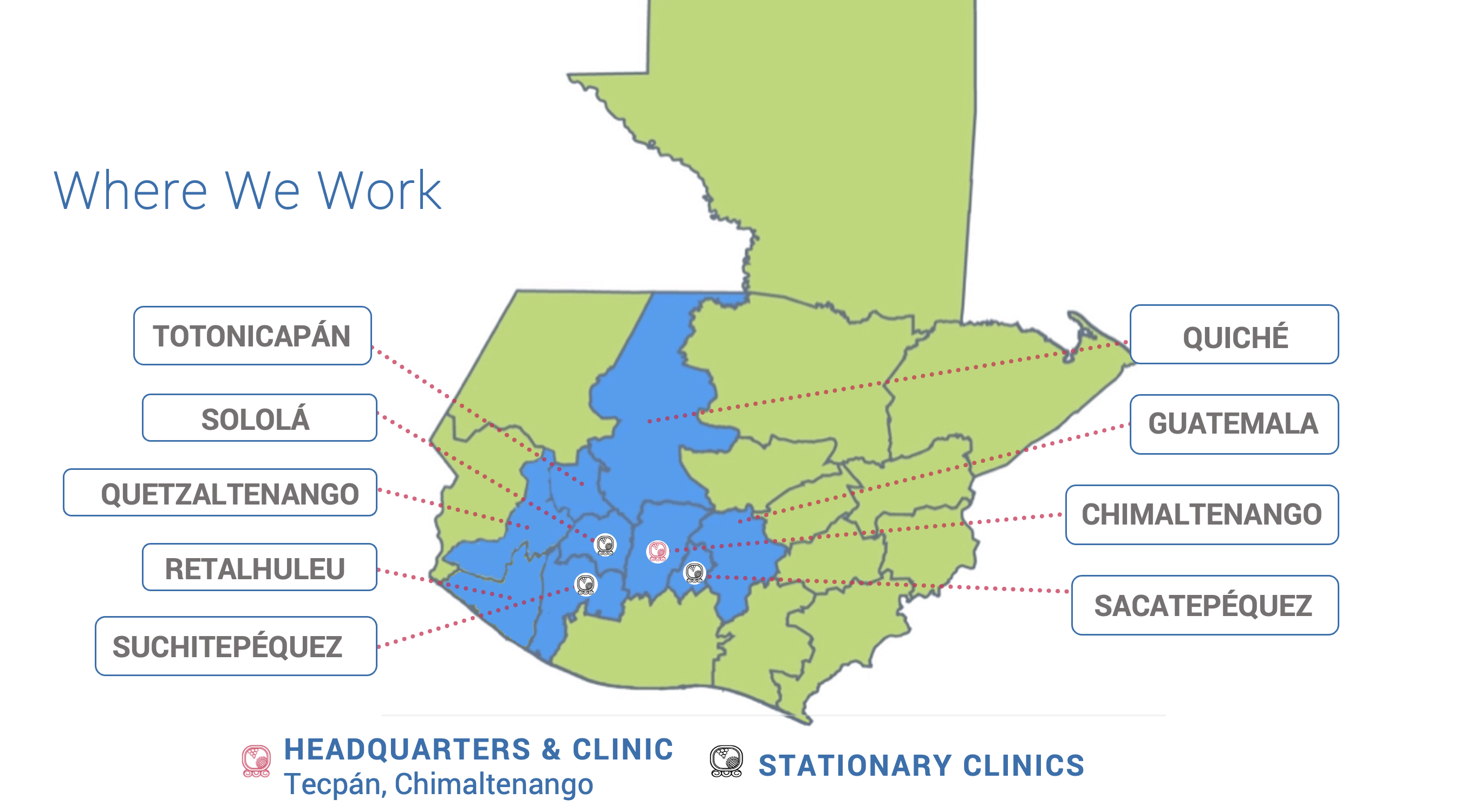 Every year, we serve 10,000 patients and make more than 34,000 visits to patients' communities and homes. We provide reproductive health care for more than 5,000 women. We offer thousands of hours of training for our staff. We research and evaluate everything we do so we can do it even better.
All of this contributes to significant improvements in the health of the communities we serve and helps advance community-based solutions to global health problems.
Learn more about some of our exciting work here: